Mercedes-Benz Service Valet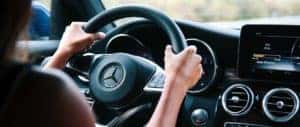 In an effort to make the transition as easy as possible for our customers who have enjoyed the proximity to their work and home of our downtown location, we will be offering a complimentary valet service to customers in the Oklahoma Metro area who reside or work south of 63rd and north of West Adkins Road in Norman, to as far East as Midwest City, and as far west as Yukon. Not to exceed 25 miles distance from the dealership.
We offer this service to anyone with an 8-year old or newer Mercedes-Benz and Sprinter, whether you bought it from us or not. As part of this service, a loaner will be delivered to you for your use throughout the day.
Some things to remember when scheduling your valet:
We have limited availability for this service, so be sure to schedule in advance.
If receiving a loaner vehicle we will need a copy of your driver's license, current insurance, and credit card.