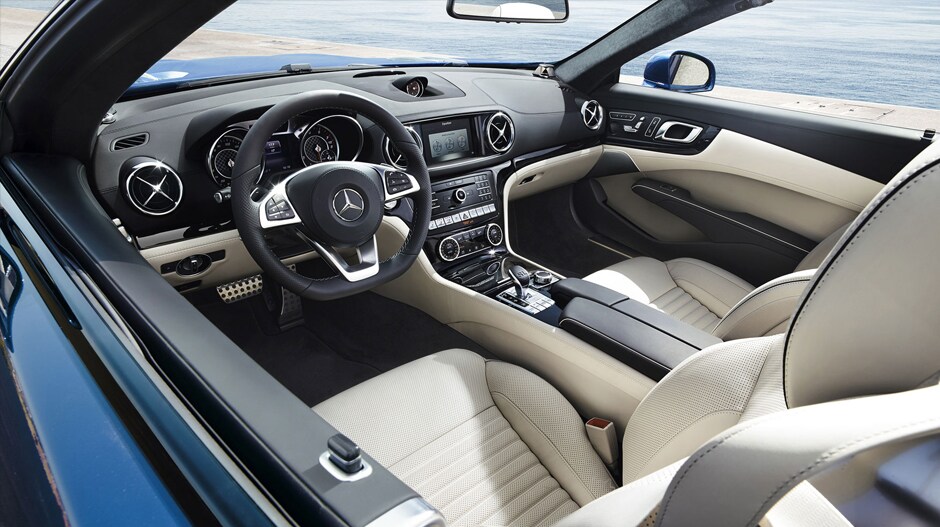 For generations, few cars have inspired desire like the SL. For 2017, it´s even more inspiring. Flowing new LED headlamps sweep back from a reshaped grille. Sculpted lower body styling wraps around 19-inch or 20-inch wheels. And with its retractable hardtop, it's perfectly proportioned as a sleek coupe and as a classic open roadster.Test drive the 2017 SL-Class Roadster in Oklahoma City today!
Nearly 300 lbs lighter than its previous generation, the sophisticated body structure of the 2017 SL is crafted almost entirely from diecast, chilled-cast, hydroformed and extruded aluminum. With 20% greater rigidity, it tips the scales in favor of greater safety, comfort, and most of all, athletic performance.
The classic two-seat cockpit embraces its passengers like the SL hugs the road. Technologically forward yet rooted in tradition, its open-air passion is met with unmatched civility, from its season-extending AIRSCARF® system to innovative sun-reflecting leather that's still carefully fitted to each seat by hand.
Much as the SL body generates more strength from lighter mass, its biturbo engines rouse more power and torque from less fuel. Both the 362-hp V6 in the new SL 450 and the 449-hp SL 550 V8 employ ultra-precise tech like piezoelectric Direct Injection and multispark ignition. Both self-tune with millisecond speed to quicken your 0-60 rush.
With rigid yet lightweight components, the 4-wheel multilink suspension teams with semi-active damping for crisp handling with silky smoothness. Industry-advancing Active Body Control® (ABC) adds innovative curve-tilting as an SL 450 or SL 550 option. The AMG® Performance Suspension, also based on ABC, is honed to even sharper, track-tuned edge.
The SL's signature retractable power hardtop transforms from open roadster to cosseting coupe in seconds at up to 25 mph. The standard Panorama roof features a see-through panel and sliding sunshade. For even more viewing options at the touch of a button, exclusive MAGIC SKY CONTROL® lets you darken the overhead glass electronically.