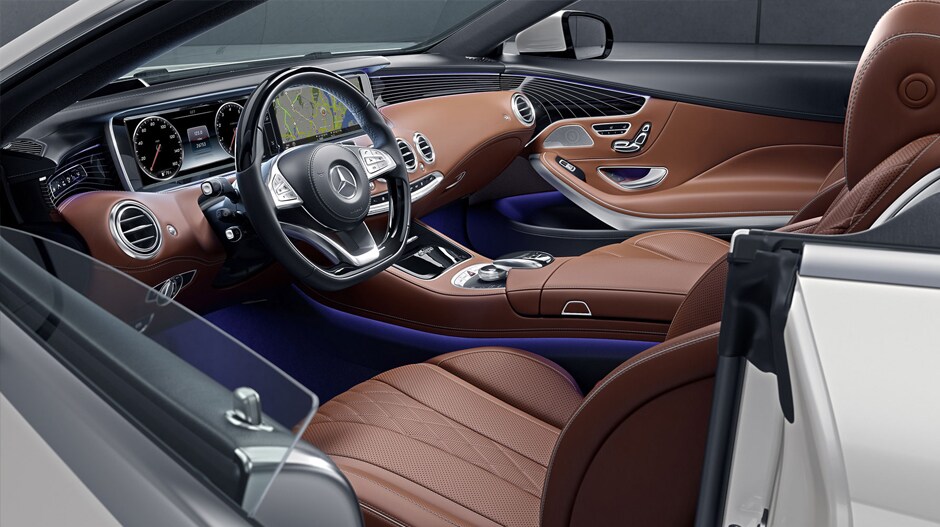 For the first time in 45 years, the S-Class reaches for the sky in a most literal way. Just as its convertible forebears are among the most coveted, the 2017 S-Class Cabriolet raises the pinnacle of desire with unmatched style, craftsmanship, innovation and luxury. In every way, it's a modern classic that advances the art of open-air motoring. Test drive the 2017 S-Class Cabriolet in Oklahoma City today!
A flowing, three-dimensional sculpture of hand-polished wood, precisely stitched leather and satin aluminum envelop the four seats of the S-Class Cabriolet. Unparalleled in its advanced technologies, it is also a haven of passenger-obsessed comforts. And with the top down, its inner beauty becomes equally apparent to passing admirers.
The biturbo V-8s of the S-Class orchestrate their power with the millisecond-quick precision of high-pressure Direct Injection and multispark ignition. Active flaps in their exhaust systems let the 449-hp S 550 and 577-hp AMG® S 63 play their own unique crescendos in response to their driver's enthusiasm.
Top up or down, an S-Class Cabriolet sneaks quietly through the wind. From its sweeping shape to the extensive refinement of its air intakes, mirrors, underbody paneling and more, every detail helps it make it more stable, secure and serene. And its low coefficient of drag sets a new benchmark in its class.
Enjoying the sunshine is a breeze in an S-Class Cabriolet. Its advanced climate control adapts automatically to the top position, so you don't have to change a single setting. The AIRCAP® system quells top-down turbulence even at highway speed. And AIRSCARF® wraps your neck and shoulders in warm air, to turn a chilly evening into a cozy one.