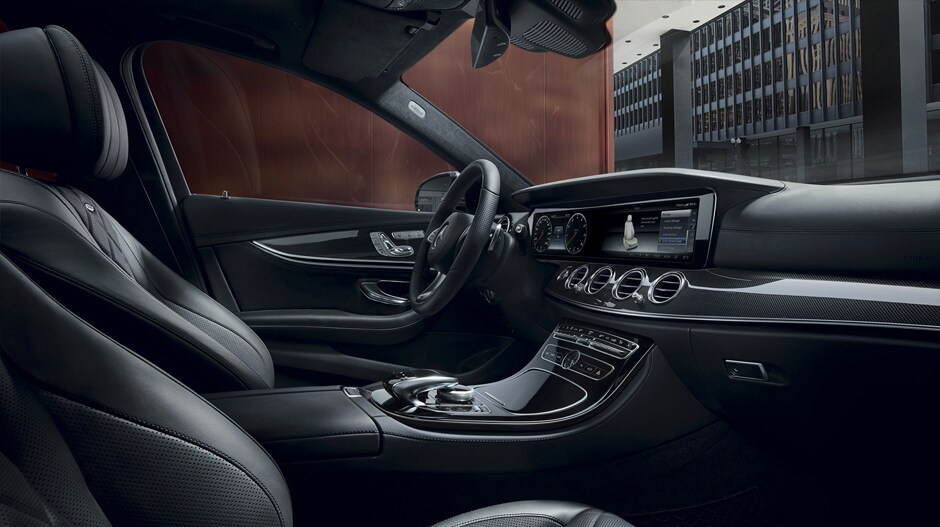 This isn't just the most advanced E-Class yet. With technologies no car has ever offered, the 2017 E-Class writes a new chapter in the story of driving: Where cars can talk to each other, and look out for you, like no other car on the road. Get yours today and be one of the first to drive the 2017 E-Class in Oklahoma City.

Athletically elegant outside, it's in the E-Class cabin where your senses come alive. Vivid screens and flowing shapes entice the eyes. And from multitouch controls to aromatherapy and a hot stone massage, wherever you touch, it caresses you back.
Mercedes-Benz engineers are human engineers first. When PRESAFE® Sound senses an impending collision, it emits safe "pink noise" via the audio system to pre-trigger your ears' natural defense against the loud noises of an accident.
PRESAFE® Impulse Side is an industry first that can help prepare you for an impending side impact. By rapidly inflating the front-seat bolster, it can move you further from an intrusion and help reduce the forces of impact.2
DRIVE PILOT takes intelligent cruise control in a new direction: sideways. It can stop and go with the flow, and help you stay between the lines, even in curves. And now you can change lanes with just a touch of the turn-signal lever.3
Standard COMAND® navigation helps get you where you want to go with 3D maps, live traffic, searching via Yelp or HERE™, and lane advice before turns. The touchpad controller lets you control by tapping, twisting or even handwriting.4
Two smartphone-like pads control nearly all the car's features without taking a hand from the wheel. Swipe and select from the central screen with your right thumb. Change settings on the screen between the gauges with your left.
A panoramic 12.3-inch screen unites navigation, entertainment and countless comfort features. Sharper graphics and more intuitive menus are clear to the eye and the mind. A second 12.3-inch graphical instrument cluster is optional.
The E-Class cabin flows with the contours of nature. Fine-tailored seats are sculpted to match the muscles in your body. Exotic yet sustainable woods sweep door-to-door, their natural glow edge-lit by 64-color LED ambience.
You don't measure a car's efficiency just at the gas pump. It's also something you feel in its confident agility. How it moves into traffic, or negotiates a surprise. It's how an E-Class always feels right for the times, and in the moment. The E300's turbo engine squeezes more power from less fuel, atomizing and itemizing every drop, and self-tuning every few milliseconds. A new 9-speed transmission responds more quickly yet relaxes more efficiently.
DYNAMIC SELECT dials in the car's performance character with the tap of a console button. The throttle, shifting, chassis and more sharpen in Sport mode, ease up in ECO. There's even a mode you can set up as you like.