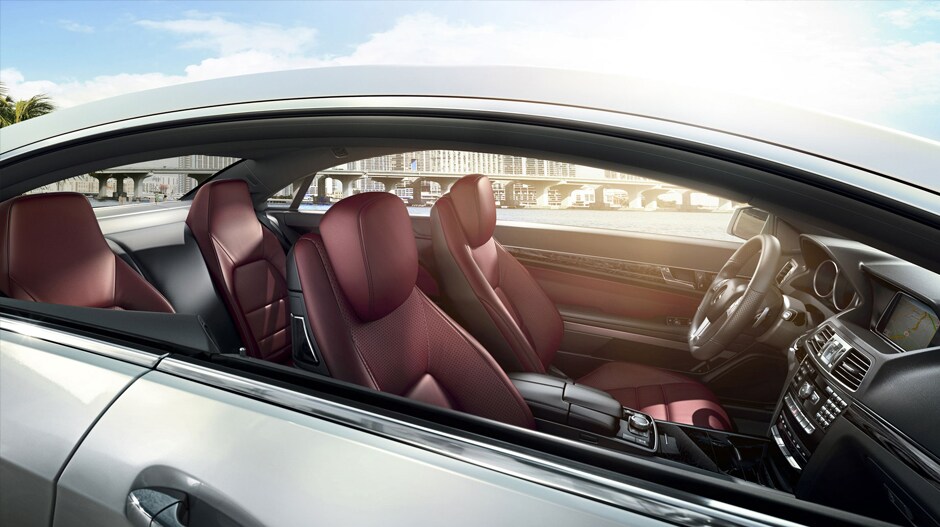 They're the only cars in their class that show you the horizon through four power side windows uninterrupted by framework. It takes an elaborate feat of engineering to uphold two E-Class Coupe traditions: unmatched style and extraordinary strength. The view from outside is no less enticing, with a chiseled physique and a confident stance. Stop in today to test drive a 2017 E-Class Coupe in Oklahoma City.
Two advanced biturbo Direct Injection engines can fine-tune their fuel and spark within a millisecond. The E 400 Coupes feature a 329-hp 3.0L V6. A 402-hp 4.7L V8 powers the E 550. Quick and lean, they create a torrent of torque with only a trickle of emissions. ECO Start/Stop saves even more fuel with automatic engine shutoff at stoplights.
The advanced 7G-TRONIC® 7-speed automatic transmission is not just responsive, it's adaptive, timing its shift points to your driving style. An electronic selector and sporty shift paddles let you take charge of gearshifts without taking a hand from the steering wheel. And the available Sport Package adds a dedicated Manual mode.
Innovative stereo cameras and radar sensors have taken driving technology into a new age of higher safety and reduced stress. Available Active Lane Keeping** and Active Blind Spot Assists** smooth your journey, while the stop-and-go ease of DISTRONIC PLUS®* cruise control includes Steering Assist**, Cross-Traffic Assist* and Pedestrian Recognition**.
It's the ideal setup for the perfect drive: Twin sport seats, divided by a console. In the E-Class, this essential element of a Mercedes-Benz coupe occurs both front and rear. All four of its seats are individually contoured, with integrated head restraints and hand-fitted leather. The front seats are also heated and 14-way power adjustable.