2021 Mercedes-Benz AMG® GT Black Series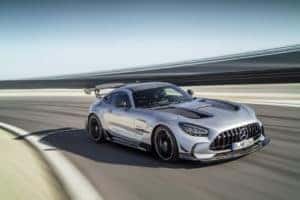 We are very excited to announce the 2021 Mercedes-Benz AMG® GT Black Series is coming in early 2021. It will be featuring a 4.0-liter V8 biturbo motor with 720 hp max. output at 6,700-6,900 rpm and 590 lb-ft max. torque at 2,000-6,000 rpm. It also has a Top Speed of 202 mph, a 0-60 mph time of 3.1 seconds, and 0-124 mph in under 9.0 seconds.
The most powerful AMG® V8 series engine of all time, the most elaborate aerodynamics, the most intelligent material mix, the most expressive design, the most distinctive driving dynamics: For the new Mercedes-Benz AMG® GT Black Series, Affalterbach's engineers have raised the bar in the art of vehicle design. This new super sports car perfectly embodies the brand's rich tradition in motorsport, as well as its expertise in developing complete vehicles that impress in every respect. The result is an awe-inspiring vehicle with 720 hp from a Handcrafted AMG® V8 engine with a flat-plane crankshaft, combined with active aerodynamics and design stemming directly from the current AMG® GT3 racing car.