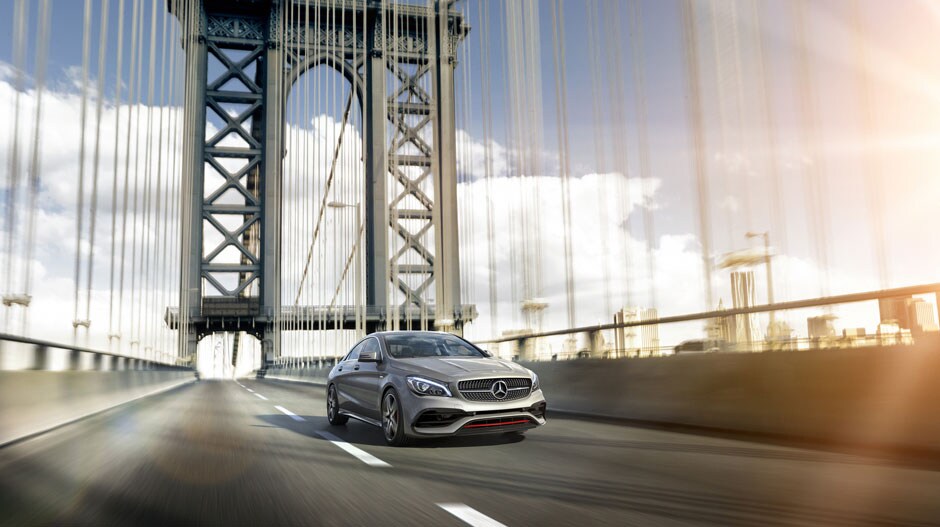 Fleet Program Information
If your company is considering adding Mercedes-Benz vehicles to its fleet, enrolling in our corporate program* can give you access to benefits designed to help make purchasing fleet vehicles even easier.
For additional information on our current offerings, please submit your request, or contact us at (405) 236-1224 to speak with a Fleet Specialist today.
If you are an employee of a participating Fleet company, you may now be eligible for exclusive pricing! Similar to the Corporate or Executive Programs, FEP is an exclusive employee purchase program that is available to all employees - from entry-level to executive-level. Call today to find out if your company is eligible? Over 200 companies participate!
Executives currently receiving a vehicle allowance as part of their compensation package are also eligible for special benefits. The Executive Allowance Bonus Program is tailored for these select individuals. The EAB enhancement is yet another reason for your company executive(s) to choose a Mercedes-Benz. Every Mercedes-Benz vehicle includes the following features:
Four-year, 50,000-mile limited warranty period
Standard features that other manufacturers may offer only as options - or not at all
A full complement of active and passive safety features, as well as clean-diesel technology
24-hour Roadside Assistance for the life of the vehicle
A customer service experience unparalleled in the industry

 The majority of Mercedes-Benz models qualify for incentives!

How to Participate in the Fleet Program*
Step 1: Mercedes-Benz Fleet Program Corporate Account Number (CAN) qualification criteria.
In order to become a qualified fleet account*, the company officer will need to provide proof via email or fax of the following:Â Â Â Â Â Â Â 
A company must have 15 or more vehicles (any make or model, owned or leased) currently registered in the company name.

Please note that registrations must be currently active. Also, be advised that known exporters, car dealerships, rental agencies/retail leasing companies, companies purchasing vehicles for customization, automotive brokers, taxi service companies, ambulette/medical transportation companies and government agencies do not qualify for the Mercedes-Benz Fleet Program*.
Step 2: Complete the application form.
The applicant needs to fill out the Corporate Account Enrollment Form in its entirety by clicking on the below link (Click to get a CAN Form).

Step 3: Applicant must submit completed application form and provide copies of registrations and lease documentation(if applicable) for approval.
Applicant needs to submit all requested information to Mercedes-Benz Fleet Operations with their online application or by fax to 201-263-7313.
Step 4: Receive approval.
Upon review of completed application, Mercedes-Benz USA will provide a response to the applicant's business email address within two business days.
Approved applicants will receive an email including their new Corporate Account Number (CAN).
For further assistance regarding the application process, please call us toll free at 1-866-628-7232.
Step 5: Purchase vehicle.
Visit any authorized Mercedes-Benz Dealership to select a vehicle. Approved Fleet customers have the option of purchasing/leasing a vehicle from dealer inventory or ordering through the dealership.
The company representative and dealer must complete all necessary paperwork. The fleet incentive must be used at the time of purchase or lease. Fleet incentives cannot be used in conjunction with Dealer Employee Purchase Program (DEPP), Mercedes Vehicle Plan (MVP), Master Lease Program (MLP), Diplomat, European Delivery, Courtesy Vehicle Program (CVP) vehicle that has not met the minimum service requirement, Special Demos, Competitor Conquest Program, Customer Advocacy Program (CAP), other Fleet Programs (Executive Allowance Bonus (EAB) or Fleet Employee Program (FEP), or non-U.S. Specification vehicles.
*Terms and conditions: Available for qualifued customers only. Fleet incentives are based on model or class type transacted. Fleet incentives must be used at the time of purchase or lease. Fleet incentives cannot be used in conjunction with Dealer Employee Purchase Program (DEPP), Mercedes Vehicle Plan (MVP), Master Lease Program (MLP), Diplomat, European Delivery, Courtesy Vehicle Program (CVP) vehicle that has not met the minimum service requirement, Special Demos, Competitor Conquest Program, Customer Advocacy Program (CAP), other Fleet Programs (Executive Allowance Bonus (EAB) or Fleet Employee Program (FEP), or non-U.S. Specification vehicles. Qualified accounts include the following: A company must have 15 or more vehicles (any make or model, owned or leased) currently registered in the company name. Please note that registrations must be currently active. Also, be advised that known exporters, car dealerships, rental agencies/retail leasing companies, companies purchasing vehicles for customization, automotive brokers, taxi service companies, ambulette/medical transportation companies and government agencies do not qualify for the Mercedes-Benz Fleet Program. Â